Lethal Weapon

I thought this was a great action movie. The best thing about this movie is that it combines a little bit of comedy with some great action. I thought it was great because the two cops were just normal people and they were not your usual bad ass cops. Mel Gibson plays a wonderful role it the movie that really broke things open for him. I thought that the bad guys had the upper hand as it would seem in real life. But the bops luck just kept coming through. Overall Rating: 7.9
Harley Davidson and the Marlboro Man

While I was watching this movie I could not get past Mickey Rourke resemblance to Bruce Willis. I thought that Don Johnson played a terrible Marlboro Man. I guess when you think of these two you think of a couple of guys who are a little bit tougher and not always on the run. There were a couple of good action scenes in this movie but all in all it did not represent the picture of Harley Davidson and the Marlboro Man that I was looking for. Overall Rating: 3.9
Batman Returns

This is the sequel to the blockbuster smash Batman. In this Batman has to
battle against the Penguin which is played by Danny Devito. This movie is
filled with Big Stars but is not as big as the original. The original had
Batman as more of a hidden idea. In this one he is too much of a front
page story all the time. Overall Rating: 5.2
Jurassic Park

This was a revolutionary movie about an island that is populated by
dinosuars.
These dinosaurs were created from DNA from fossilized insects. This movie
has amazing graphic scenes and it is fascinating yet scary. The T Rex shows
just how dangerous dinosaurs can be. I think the actors do a great job
showing how unbelievable an island like this would be. Overall Rating: 9.3

Enemy of the State

A good suspense movie about how your whole life can be monitored. Will
Smith gets some information and it puts him in grave danger. Gene Hackman
helps him in these trials. This movie is fast paced and has a lot of action.
This movie is very scary how you can be watched so easily in a movie with
such modern technology. Overall Rating: 6.7
Robin Hood:Prince of Thieves
I thought this movie was very good. Morgan Freeman helps Kevin Costner
after Costner helps him escape from a Turkish prison. He goes on to lead
a band of raiders in the woods. This movie has romance, action and betrayal
and Costner plays a great role of a fairy tale that many have been told.
Robin Hood has to beat his arch enemy the Sheriff of Nottingham. Overall Rating: 8.0


Batman

The original Batman was excellent. They show Batman as almost a bad guy
and very mysterious. He isn't your normal good superhero character. Michael
Keaton plays Batman and does a great job. The Joker is the villain in part
one and Jack Nicholson plays the perfect smile. He has the perfect smile
to be the joker. This is the best of the Batman movies. Batman is
mysterious
to so many people. Overall Rating: 8.4


Glory

This is a great movie about the civil war and the fighting of the first
regiment of all black troops. Morgan Freeman, Denzel Washington, Matthew
Broderick all headline this all star cast. This movie is great because
it shows how hard the blacks fought and at the same time how brutal the civil
war was for this country. Matthew Broderick finally sees the war for what
it is and his troops go into battle with bravery. Overall Rating: 9.1
Rocky 3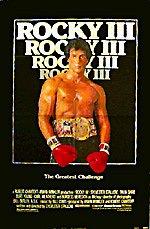 Some people tell me that this is their favorite of the Rocky movies. When
is comes to Rocky I think that 1,3,4 are pretty much a toss up. The good
thing about Rocky 3 is that Rocky loses to Mr. T. After this loss it
becomes a revenge battle for Rocky against someone who is stronger and
faster. On a sad note Rocky 3 brings the loss of Micky which makes you think
their will be no more Rocky's after this. Overall Rating: 7.3


Superman 2

This is my favorite of all the Superman movies. In this movie Superman
has enemies of equal power that he has to defeat. Superman decides to
give up his powers for love and he finds that it is a mistake. What would
it be like to be strong, then to be so weak? Superman is not perfect in
this movie, it makes him seem a little more human. Overall Rating: 7.9


The Karate Kid 2

This movie is the typical sequel that takes place
somewhere other then where the original took place.
This one is a lot scarier because of the mystery about
the culture of these Asians. Plus American karate has
always been second to Asian karate, at least
stereotypically, this makes for an even tougher
challenge for Daniel. You throw in that he is
fighting for a girl and he spares the guys life which
is more disgraceful than killing him but the right
thing to do. Overall rating: 5.8

Last Action Hero

Another Arnold action movie. In this movie a boy travels into a fantasy
land and finds Arnold Scwarzenegger who is the last action hero. I did
not find this movie to be that great but it had a few good action scenes.
This is that type of movie that can only be loved by the true action guru.
I'd have to say that the stunts are pretty impressive. Overall Rating: 3.0


Terminator

This movie stars Arnold Scwarzenegger and he plays the role of a robot
from the future. In this movie Arnold seems like he is almost impossible
to kill. Everything possible happens to the terminator in this action
movie but he continues to survive. Even when he is down to just his metal
skin. You begin to think that it is unreasonable that the terminator never
dies. Overall Rating: 6.3


Deep Impact

This movie was good but was overshadowed by Armageddon which came out
right around the same time. My main complaint with this movie is that
once the meteor hit the movie ended a few minutes later. This movie went
more into the preparation of earth for the impact because everyone felt
that they were going to die. In Armageddon their is a little more hope
that the people of the world will survive. Overall Rating: 7.8


The Rock

The Rock is about a man that escapes from Alcatraz but is still is jail.
Alcatraz is taken over by a group of terrorists that believe they are doing
what is right. Nicholas Cage has to work with Sean Connery to break into
Alcatraz and stop these terrorists from bombing San Francisco. I think
this movie is full of action and suspense. You are sometimes torn in this
movie between which of the two sides is really right. Overall Rating: 7.5


The Devil's Own

This movie was terrible. Brad Pitt moves in with Harrison Ford's family
and brings trouble their way. This movie just did not have that much of
a plot and the ending came about too quick. Harrison Ford is chasing Pitt
and then five minutes later the movie is over. They could have really
gone somewhere with this idea but they needed to add more suspense. The
Devil's Own really didn't describe the movie very well. Overall Rating: 4.2


The Way of the Gun

I could never really get a handle on exactly what was
going on in this movie. I couldnt find out who was
paying who and how much they were getting. I thought
that it had a unique ending but not all that
interesting. There were a couple really good gun
fighting scenes and very strategic fighting and
maneuvering. Overall Rating: 4.2

Breakdown

This action movie about the disappearance of a man's wife when she receives a ride from a trucker that helps them when their car breaks down. This movie is somewhat scary because everyone seems to be working against this guy.
It sometimes seems weird that these people do this. This is a non stop action movie with a normal ending. The best part of the whole movie is when the truck falls off the bridge onto the bad guy. It seems scary that something like this could actually happen in the middle of nowhere. Overall Rating: 5.1


The Jackal

I like the actors in this movie. Since I am a huge Bruce Willis fan I want him to be the one to win at the end even if he is the bad guy. My favorite scene is when he shoots off the hand of the guy from twister. The jackal is a good assasin movie where you don't know whether to pull for
the good or bad guy. Sort of like the movie Assassins. This movie also had many good high tech weapons. Overall Rating: 4.8


The Matrix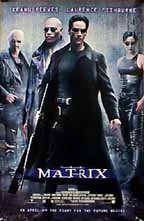 The matrix had amazing stunt and opens the mind to
amazing opportunities. The matrix opens an idea about the world using the technology of computers. This movie has great action scenes and you have to watch it over and over
to understand it all. It isn't until the end of the
movie that Neo actually understands the Matrix and gets to defeat the agents. I still don't
understand why there was a chosen one and who chose
him. Are others capable
of what Neo can do if they reach the same
understanding. Can it be trained
like a Jedi Knight. Overall Rating: 9.4
The Last Boy Scout

I thought that this was a great action movie. I
thought that Bruce Willis
and Damon Wayans complement each other perfectly.
Bruce Willis is a
professional
bodyguard and Damon Wayans is a masculine boyfriend
who have to work together
to find the killer of Wayan's girlfriend. Bruce
Willis has some bad ass
quotes in this movie. Overall Rating: 8.3
Lock Stock and two Smoking Barrels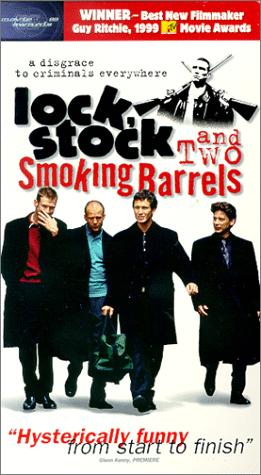 I thought this movie was funny and very creative. The
story was amazing
how everything keeps working out for this group of
guys. The events of
this movie are interestingand amusing and the ending
fits the movie just
the way it is. And you can never predict who will end
up with the money.
The Fugitive
Harrison Ford does a great job of acting out the old
television series.
The Fugitive was good not because you weren't sure
what was going to happen
but because you want to know what it was that happened
before and who was
behind it. It is fun to watch Harrison Ford track the
person that framed him
so he can clear his name. He has to also get
vengeance for his spouse
getting killed. This movie is exciting and
mysterious. Overall Rating: 9.3
Air Force One

This is a good movie about a president that gets Air
Force One taken over.
If we ever had a president in the United States like
Harrison Ford we might
be going somewhere with this country. There is good
action and suspense
in this movie. It's too bad that in real life if
someone took over Air
Force One it would be lights out for everybody on the
plane because the
president wouldn't do anything. Overall Rating: 6.5
American History X

I found this movie to be a great story of how to turn your life around by not buckling to peer pressure. It isn't until Derek is in jail that he escapes the peer pressure of society. This movie emphasizes the importance of doing well in school and living a good life wrapped into the violent depiction of a guys life viewed through the eyes of his brother. It shows how a boy grows by doing one assignment but can not be saved from the awful past that society led him to live. Overall Rating: 9.2