Johnny Tsunami
I thought that this movie was enjoyable and one that many children could definitely relate to. I think that it is a movie that has some very good advice about being your own person. Some of this advice could be detrimental in that it sort of promotes this boy to snowboard and not do his homework like his dad wants him to do. But all in all this movie has pretty good issues behind it and I liked it except for some of the rediculous slang used by the kids.
Toy Story

I thought that this was a very delightful and unique story. I really liked how they included many toys that children actually play with and even some that their parents may have played with. This helps parents relate to a movie that is made a little more for their children. I thought the story was good and the graphics were also good. I think that many movies have imitated this sort of new wave children's movie since this one came out.
Kindergarten Cop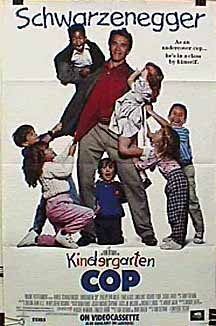 I thought that this movie at first seems like it is not going to be a family kind of movie at all because Arnold is chasing a man down with a gun. But what you come to find is that this is a sweet movie about a cop who is working undercover and falls in love with the people that he is trying to protect. This is not a very original idea but the movie isn't a complete failure. Arnold is the perfect man to play this role and it shows the lighter side of him that has been since used much more often.
The Muppets Take Manhatten

This is probably my favorite of any of the muppet movies. I think that the diversity of the characters in the muppets makes them such a success. What better place for this group of animals to go the the fast pace New York life. They go to try to do a broadway show and the adventure goes many places from there as all of the muppets get to New York and all have their own sort of adventures and personality changes. A really fun musical type muppet comedy that all kids can love.
Captain Ron

I thought this movie was a cute family movie. It is along the lines of a Christmas Vacation movie minus some of the good comedy. I thought that Martin Short would be a lot funnier instead of Kurt Russell sort of being the one bringing most of the comedy. This movie has a good happy ending and brings together the whole family. This movie is nothing special and is nothing more than a movie you watch because you are bored. Overall Rating: 3.9
Snow White and the Seven Dwarfs

This is one of the Disney Classics and one that is not really one of my favorites. The Dwarfs sort of make the movie OK but Snow White is a pretty boring character that I don't think that kids can relate to very much. I think that the witch can be sort of scary to little kids and the witch brings Walt Disney's magic into this movie. But what much can you criticize about a classic. People must like it for something because it has been watched by children for years and years.
Mary Poppins

This is a great story for children because it is about a cheerful nanny who brings such love and joy to a family with her cheerful songs and her loving spirit. This movie is good because it shows kids not to hate having a babysitter and that sometimes they can be better than even their own parents. Of course Walt Disney adds his magical twist of having Mary Poppins come flying in from her umbrella from up in the sky.
Spy Kids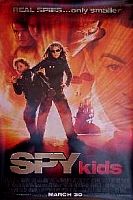 I thought that this movie was very good. I thought that it would be a little too geared towards younger kids going into the movie. I thought that it was the kind of movie that a parent would not be totally bored with as they were watching it with their kids. It is a little funny and in some ways almost has a sort of a Willy Wonka and the Chocolate Factory feel to it. It is sort of a fantasy but the kind of fantasy that most young kids would believe but not at all be scared by. This movie is a good time and should be seen by almost any kid.
The Mighty Ducks
The story of a young kids hockey team that is almost terrible. Emilio Estevez coaches this bad news bears comedy. The Mighty Ducks play the typical worst to first story. The comedy in this movie made it very popular for kids and maybe even young teens. It is a story of friendship and how to succeed. This movie led to the naming of a NHL Hockey Team.
Home Alone 2

This movie is almost the exact same as the first movie except Culken gets
on the wrong plane and ends up in New York instead of Paris. The same
thieves are back at it again and they have to face a new set of booby traps.
This time it is not to rob the house but to catch the boy that put them
in jail in part 1. The booby traps in this one may be a little but more
painful then the traps in the original.
Mulan

This is a tale of a girl who dresses as a boy to join the army. She brings
with her her trusty sidekick who is there for laughs. When she is found
out her father feels he will be disgraced but she is praised for being a
hero. And of course she finds true love. This story brings children into
the time of Samurai in Southeast Asia.

Dennis the Menace

This movie is based on the black and white TV show and the cartoon Dennis
the Menace. Dennis and his neighbor Mr. Wilson add all the comedy. Mr.
Wilson is always getting irritated by Dennis and when Dennis ruins Mr.
Wilson's flower enhibit he runs away. This movie is funny and can be enjoyed
by the whole family. The movie fits the TV show.
Lady and the Tramp

This story is about the bringing together of high and low classes for true
love. In the story Lady and the Tramp are two dogs, one is a stray and one
is living in a well to do house. At first lady is repulsed by him but then
she falls in love with him. This movie is great for young people but has
some romantic seasons that could be fun for all. Walt Disney shows his
genius in this film.